Design Evolution
Following approximately the first 1,000 implantations, a new material, PEEK-OPTIMA®, was introduced to address the shortcomings of Titanium. PEEK was implemented to support enhanced post-operative assessment of fusion. Additionally, PEEK's elastic modulus was designed to be much closer to that of actual bone, reducing the risk of subsidence. This was recently validated in a 2013 study by Chen et. al1 which reported that after 7 years there is a statistically significant higher level of subsidence with titanium cervical cages compared to PEEK cages.
1 Chen Y, Wang X, Lu X, Yang L, Yang H, Yuan W, Chen D (2013) Comparison of titanium and polyetheretherketone (PEEK) cages in the surgical treatment of multilevel cervical spondylotic myelopathy: a prospective, randomized, control study with over 7-year follow-up. Eur Spine J http://dx.doi.org/10.1007/s00586-013-2772-y
Below: A Comparison of Elastic Modulus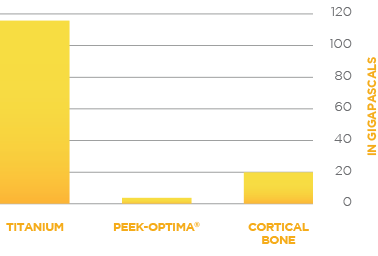 This design was unveiled as the first "STALIF" device (STand Alone Lumbar Interbody Fusion). Featuring bone graft containment and an increased graft area, STALIF brought about wider acceptance of the use of Integrated Interbody devices.
Right: The Original STALIF Device